Mortimer Curran is an active, family-oriented individual with passions for the outdoors, travel, photography, and obstacle course racing events. He currently represents Red Sneakers for Oakley (RSFO) as a Board Member.
Growing up, Mortimer Curran spent most of his time outdoors, riding bikes around the neighborhood, playing games with the neighborhood kids, practicing tennis, or finding a new tree to climb. He was always a very active individual and has maintained this quality throughout his high school, college, and adult life.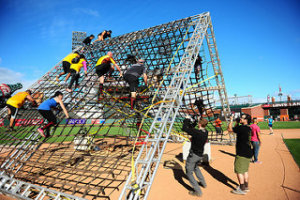 While he enjoyed playing all types of sports as a kid, he did not spend much time participaing in the typical JV or varsity sports in high school. Instead, he spent much of his time with riflery as well as mountaineering and rock climbing. He enjoyed the uniqueness of these sports and how close they brought him to nature. Mortimer Curran has always been an avid outdoorsman and nature enthusiast. He has found that the outdoors provide a great sense of opportunity and adventure. For him, less traditional sports like rock climbing create a more fulfilling experience than sports like baseball or soccer. 
After high school, Mortimer went on to attend college at Georgetown University in Washington, D.C. earning a B.S. in Foreign Service and International Affairs. During this time, he spent a year training with Army ROTC. Through his time here, he found a great passion for physical training and obstacle challenges. After completing ROTC, he continued with running and weight training and soon after started signing up for various obstacle course racing events in his local area.
Since then, he has taken on challenges at numerous obstacle course races around the United States. Some of his favorite events have been with Spartan Race and BoneFrog races run by the Navy SEALs. Whether he is taking on the course himself or participating with friends and family, he loves getting outside and having a good time while also working to improve his mental and physical strength.
When he is not participating in obstacle course races, Mortimer Curran enjoys traveling with his family and experimenting with travel photography. He enjoys capturing beautiful scenery and small bits of nature that people tend not to notice or appreciate in everyday life.
Throughout his travels, he has had the opportunity to visit many interesting places all across the globe including European countries like:
Spain     

Italy

France   

Belgium
States in the U.S. such as:
and areas of the Caribbean including:
While traveling to all of these unique places, Mortimer Curran has participated in many fun and exciting outdoor activities including sailing in the Bahamas, hiking through Vermont, skiing down the slopes of Beaver Creek in Colorado, and ziplining through the trees of the rainforest in Costa Rica.