On January 26, 2019, during the dead of winter, the Blizzard Blast at Keg Kingdom Obstacle Course in Lowell, Massachusetts will challenge the notion that there's an offseason for races.  I'll give you a hint: they absolutely don't believe in any such thing!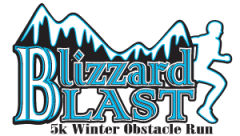 The Keg Kingdom Obstacle Course was recently honored with a nomination for "Most Innovative Obstacle Course" by expert-led Obstacle Racing Media. "Innovative" is completely right! Smack dab in the middle of winter, the Blizzard Blast integrates the holiday season into its obstacles. In particular, this winter obstacle course race makes use of the most festive of Christmas decorations with the "Christmas tree carry." And the festive nature of this obstacle course doesn't end there. Racers will also have to crawl under a net of Christmas lights. Talk about being in the holiday spirit!
This fun-filled and festive obstacle course race will also be hosted in Nashua, New Hampshire on the same date. This gives New Englanders of the south and north an opportunity to smash this truly innovative and unique muddy (and potentially snowy) 5K.
At the Blizzard Blast, winning isn't about who finishes the obstacle course first.  Everyone who comes out to this blisteringly cold event is a winner in their own right, as long as they complete the course!  But, there are prizes offered to specific racers who champion one of these four categories:
Elite Runners

Largest Team

Best Team Spirit

Most Laps/Multi Laps
That's right:  the Blizzard Blast is a team-based event. So if you've got family visiting from out-of-state, this is a perfect opportunity for a day of family fun! Don't worry about the cold weather, either: Blizzard Blast supplies all runners with a steamy bowl of chilli!
If you've never participated in an obstacle course race before, fear not! Mortimer Curran has provided running beginners and other fitness enthusiasts with tips in his fitness and running blog series on Medium and Blogspot!